AX Cinema Nights is a new anime screening series coming to cities across North America in 2022! This in-person event celebrates the best new and classic anime by bringing fans together for immersive and unforgettable screenings in movie theaters throughout the year. 
Get a sneak preview of the upcoming season of AX Cinema Nights with a day of movies. All screenings take place on Saturday, July 2 at Regal Cinema. Tickets are available (1) hour prior to each screening on a first come, first served basis. Each screening will be cleared. 
Presented by Iconic Events Releasing in partnership with Anime Expo and Eleven Arts. Follow @iconiceventsnow and www.ax-cinemanights.com to learn more about upcoming events coming to a theater near you.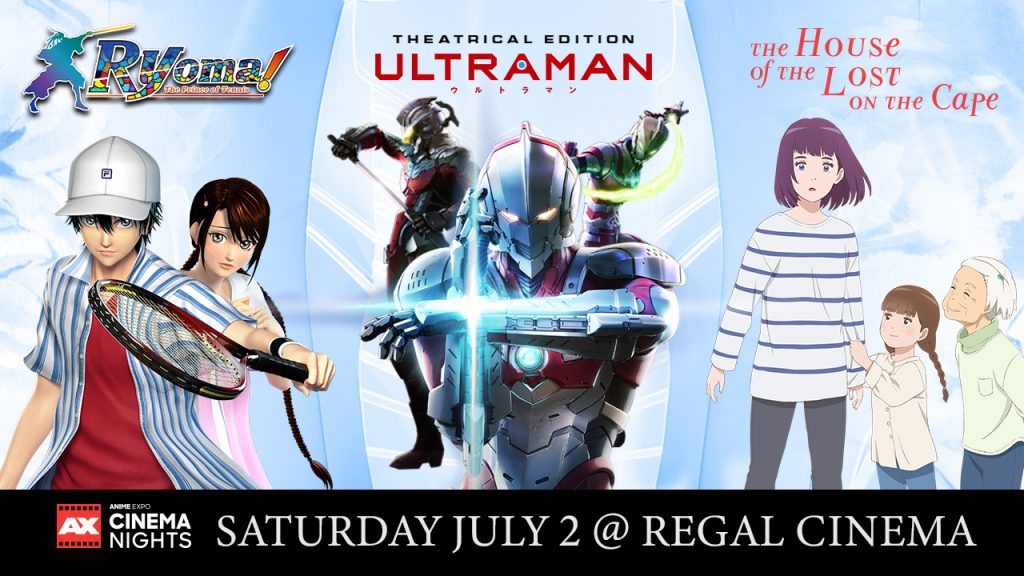 RYOMA! THE PRINCE OF TENNIS – GLORY
Screening start time: 10:30AM
Sing, dance, and play at our RYOMA! THE PRINCE OF TENNIS – GLORY screening! This version is a full-length alternative cut of the film that includes different exclusive scenes featuring Hyotei team captain Keigo Atobe and Shitenhoji team captain Kuranosuke Shiraishi. 
THE HOUSE OF THE LOST ON THE CAPE – U.S. PREMIERE
Screening start time: 1:15PM
Be the first to watch this new film from David Production (JoJo's Bizarre Adventure, Cells at Work!). THE HOUSE OF THE LOST ON THE CAPE is a heartwarming film which will transport you into a mysterious world you have never seen before.
ANIME ULTRAMAN – THEATRICAL EDITION
Screening start time: 4:00PM
Join guest Production I.G. co-directors Kenji Kamiyama and Shinji Aramaki for this exclusive screening of the Theatrical Edition of one of the most popular first seasons of anime ever to stream on Netflix—ULTRAMAN. Years after Ultraman disappeared, Shinjiro learns of his connection to the legendary hero and dons the metallic ultra-suit to fight new aliens. Coming this Fall to theaters in North America.
---
About Iconic Events Releasing
A fast-growing name in event cinema, Iconic Events Releasing brings live and filmed entertainment of all types to movie theaters as special limited engagement events. Programming includes live pay-per-view sports, e-sports competitions, anime, music, and comedy events, award-winning television specials, Broadway productions, exciting holiday specials, family events, rock concerts, and music docs. Iconic's theater network represents some of the country's preeminent cinemas offering enhanced guest experiences, high-quality food & beverage service, and reserved seating. The company recently enjoyed significant successes with "jeen-yuhs: A Kanye Trilogy," "Bo Burnham: Inside," "Block Party," and the 25th Anniversary of "Selena". Iconic has a varied slate ahead, including monthly marquee UFC events and a new season of anime screening series AX Cinema Nights, presented in partnership with the Anime Expo. More information is available at https://iconicreleasing.com.
About Eleven Arts
Eleven Arts is a Los Angeles-based distribution company known for bringing high-quality Japanese animation to North America. Eleven Arts' latest titles include STUDIO 4°C's POUPELLE OF CHIMNEY TOWN, GINTAMA THE VERY FINAL, AND SHIROBAKO THE MOVIE. Eleven Arts' catalog includes critically acclaimed titles such as A SILENT VOICE, MILLENNIUM ACTRESS, MAQUIA: WHEN THE PROMISED FLOWER BLOOMS, PENGUIN HIGHWAY and more. Previously, Eleven Arts distributed titles such as EVANGELION REBUILD, SWORD ART ONLINE: THE MOVIE ORDINAL SCALE, BORUTO, and NARUTO franchise films. For more information visit, https://www.elevenarts.net.